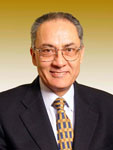 A substantial proportion of Rafat's career was in Hotel Management covering all disciplines including Finance, Food and Beverage, Rooms and Human resources Progressing to General Management, both in Europe and the Middle East with privately owned companies as well as international hotel groups His last operational post was as UK Director for "Royal Classic Hotels", the Danish Hotel Group.
Since acquiring HOCAPS in 1995, Rafat has been active in enhancing the company's international presence and has established an extensive network in the Middle East and Asia.
To complement HOCAPS international chefs division, he acquired one of UK's most reputable established chefs recruitment companies "Simply Chefs", creating an unrivalled global strength in chefs recruitment.
The creation of BELGRAVIA International marks a new milestone in the company's development. Rafat has drawn on the support of internationally experienced directors to develop new dedicated divisions for executive search and HR and Organisational consulting.
Contact: